the Rabbit and Cavy Breeders Index
Submit Photos to the Rabbit and Cavy Breeders Index
We are in need of photos! Please submit your photos today!
We always welcome new photos of the various breeds of rabbits and cavies listed on the Index. It is only through contributions from breeders that we will be able to have photos of each and every breed listed. Even if the breed you want to submit a photo for already has pictures on its page we will still try our best to incorporate it on the page or will post it near your listing.
When you submit a photo to the Index you are authorizing its use on the website and you are ALSO authorizing the webmaster to modify the photo so it will work well in the page composition. We do NOT modify any content of the photo the only modifications we make are re-sizing and cropping to remove background clutter.
Credit will be given beneath the photos as a caption. If you have a website, a link will be provided directly from the caption to your website. An example can be seen below: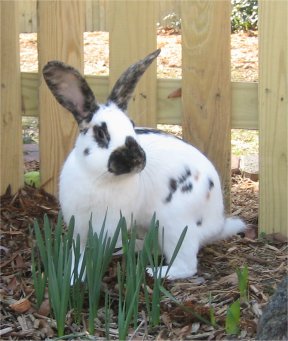 Photo Provided by Whitney of Imagination Rabbitry
We can only accept photos that are of high quality, any submissions of blurry or poor photographs will be notified that their photos will not be used on the website. Should this be the case you are always welcome to re-submit another photo(s.)
We prefer photos that are in .jpg .bmp or .gif formats.
To submit your photos please attach and e-mail them to photos@rabbitandcavybreeders.com You will receive a confirmation e-mail upon receipt.
Return to Home Page