the Rabbit and Cavy Breeders Index
Checkered Giant Rabbit Breeders
"the Rabbit Beautiful"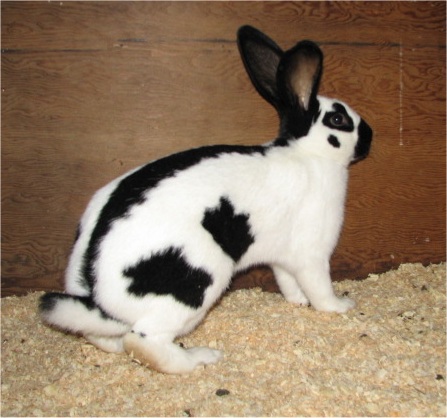 Checkered Giant photo provided by Stephanie of Dazzle Bunny Acres
Max Weight: none
American Checkered Giant Rabbit Club
The American Checkered Giant Rabbit Club is an ARBA chartered national breed specialty club for Checkered Giants, details on joining and more information about the breed can be found on the website.
Hoffman's English Lops
Matt Hoffman
Pennsylvania
tlfa797@yahoo.com
English Lop, French Lop, Checkered Giant, Roan, Dalmation, and Black Cavies
I have been breeding and showing English Lops for 8 years. I am also working with a small group of French Lops and Checkered Giants. I have been breeding Roan, Dalmation and Black American cavies for 4 years.
Listed: 12/29/09

Dazzle Bunny Acres
Stephanie
Washington


dazzlebunnyacres@gmail.com




Checkered Giant, Rex, Mini Lop




We specialize in Checkered Giants and have youth raising Mini Lops and Rex breeds.


Listed: 11/25/09
Do you have photos of Checkered Giants you would like to share? Please submit them here!
Previous Breed: Champagne D'Argent Next Breed: Cinnamon
Return to Breeders Arranged by Breed
Return to Home Page
© 2009 WP