the Rabbit and Cavy Breeders Index
Himalayan Rabbit Breeders
"Majestic Beauty of the Ages"

Himalayan photo provided by Erin of Meadow View Rabbitry.
Himalayans are a very unique breed of rabbit that was imported into the US during the Belgian Hare Boom of the early 1900s. The ARBA recognizes four colors- Black, Blue, Chocolate, and Lilac, and each of these colors can be bred between each other without the risk of get unrecognized colors.

Himalayans are almost always good mothers, with litters of 6-7 on average. These rabbits are notoriously calm, gentle, and easy-going, and make an excellent first breed for children and adults alike. They, however, do not make good 4-h animals, as over handling and scruffing the rabbit can cause smut.

The Himalayan is unique because it has it's very own body type. There are no other breeds posed or judged the same way. The foot placement is much like other breeds. The front toes should line up with the eyes. The back legs should be placed as far away as possible from the front feet, while still resting firmly on the table. The ideal topline is to be as flat as possible, with no arch or deviation in depth until the hindquarters slope off gently.

The markings on a Himalayan are equally as important as the body type. Points should be dark, deep, and bold in all cases. The boots and stocking should extend as far up the legs as possible without breaching into the usable portion of the pelt. The cut off point should be clear and sharp, with few white hairs. Nose smut should be round, high into the whisker bed, and ideally egg shaped. A dark color under the chin is rarely looked at.

There is an excellent, friendly member base in the Himalayan world, and any breeder you talked to would be willing to help you out and get started.
Himalayan breed description provided by Erin of Meadow View Rabbitry

The American Himalayan Rabbit Association
The American Himalayan Rabbit Association is an ARBA chartered national specialty club for Himalayans, details on joining and more information about the breed can be found on the website.

The Himalayan Yahoo Group
An excellent resource for the Himalayan enthusiast to connect with other breeders and exhibitors in message board format.
Max Weight: 4.5 lbs.
Erin Gabe

Arizona

Himalayan

Quality Himalayan rabbits in all four colors

Listed: 11/20/09

Marshall Hill's Rabbitry
Jennifer Harris
Washington


mhillsrabbitry04@aol.com




425-350-9272




Holland Lops, Himalayans




Raising Quality Holland Lops for pets, breeding and Show. In many colors including my Red Project. I also have a few Himalayans in Black only. I am located in Marysville Washington.


Listed: 11/25/09

Edens' French Lops
Patrick and Lynn Eden
Illinois


bellevuebunnies@yahoo.com




French Lops, English Lops, Himalayans




Raising quality French and English Lops.


Listed: 11/25/09
Caviaria Rusticana
Peter Herman
New Mexico
rpeter@zianet.com


Peruvian Cavies, Himalayans




We specialize in pure bred Peruvian cavies - no silkie or satins in our lines.


Listed: 12/01/09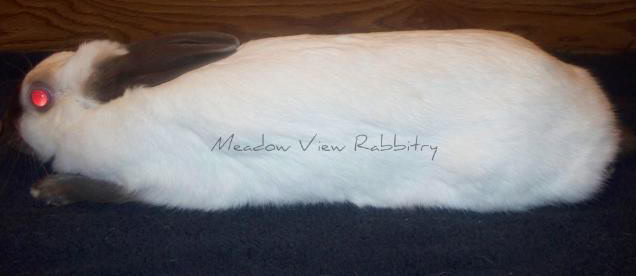 Himalayan photo provided by Erin of Meadow View Rabbitry.
Do you have photos of Himalayan you would like to share? Please submit them here!
Previous Breed: Havana Next Breed: Holland Lop
Return to Breeders Arranged by Breed
Return to Home Page
© 2009 WP