the Rabbit and Cavy Breeders Index
Creme d'Argent Rabbit Breeders
"the Cream of the Crop"
Creme d'Argent photo provided by Scott of Family Tradition Rabbitry
The Creme D'Argent was originally developed in France and came to the United States in the 1920's. They are fairly uncommon and even listed on the "watch" list of the American Livestock Breed Conservancy. Cremes are commercial rabbits used for exhibition and meat. They are recognized in only one color: creme. The proper color is a creamy orange with even silvering over the entire body.
Cremes are a six class breed. Meaning the classes are seniors (8 months +), juniors (under 6 months), and 6/8 (6-8 months), and divide each class by sex. An ideal Creme will have a wide, full body with a broad head and short, thick ears. Grand champion legs are difficult to acquire with this breed as there are few around. It is up to a breeder to promote the Creme D'Argent.
Creme D'Argents need a large cage. A buck should be housed in a pen no smaller than 24x30 inches. A doe with her litter will require a 30x30 inch or even a 24x36 inch cage. To keep your Creme in good condition, they will require a little more than 1 cup of quality pellets and timothy hay each day.
Creme D'Argent breed description provided by April of DenJak Rabbits.
Max Weight: 11 lbs.
Creme D'Argent Rabbit Federation
The Creme D'Argent Rabbit Federation is an ARBA chartered national breed specialty club for Creme D'Argent, details on joining and more information about the breed can be found on the website.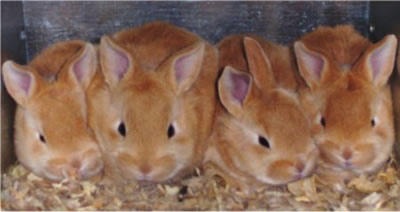 Creme d'Argent babies photo provided by Scott of Family Tradition Rabbitry
Spots of Rhapsody Rabbitry
Moria Wallen
California
moandtwo@sbcglobal.net
Beverens, Creme d'Argent, English Spots, Blanc de Hotot
Raising Quality rabbits in Northern California. Focusing on quality not quantity and health.
Listed: 11/21/09

DenJak Rabbits
April Wall
Georgia


apryl1420@yahoo.com


Creme D'Argent & Dutch
Raising quality rabbits for fancy, companionship, and consumption.
Listed: 11/01/09

Heartland Rabbitry
Emilee Wilcox
Washington


IxLovexThirtySTMx@yahoo.com




Creme D'Argents, Champagne D'Argents




We are a small twenty plus hole rabbitry located in Poulsbo, WA. We raise and breed the beautiful Creme and Champagne D'Argents


Listed: 11/25/09

Pearl Rabbitry
Ben Holcomb

Iowa

Creme D'Argent and limited numbers of American Cavies.

I focus on improving the Creme D'Argent rabbit breed.
Listed: 11/25/09

Bellview Barracks
Toria Gruenwald
Florida


Toriagruenwald@cox.net


Mini-Rex, Creme d'Argents, Silvers, Netherland Dwarfs
Bellview Barracks is a small rabbitry in Northwest Florida. We are a family centered operation dedicated to raising quality rabbits. We believe it is important to continue the breeding of rare breeds with quality stock.
Listed: 11/30/09
JAM 'N Buns Rabbitry
Pam Spillner
Wisconsin


jamnbuns@yahoo.com




American Fuzzy Lops, Creme D' Argent, Flemish Giant & Mini Rex




We are an active ARBA/4-H family that breed for quality show stock in Central WI.


Listed: 12/01/09

Rebecca Blanks
Alabama

(256) 479-9071

Harlequins, Silver Martens, Creme D'Argents, Lionheads, Holland Lops, Netherland Dwarfs, Mini Rex

We are a small family run rabbitry located in North Alabama. We strive for rabbits that conform to the ARBA Standard of Perfection as well has having sweet, loving dispositions. Currently we raise Harlequin, Silver Marten, Creme D'Argent, Mini Rex, Holland Lop, Netherland Dwarf and Lionhead. Please contact us with any questions!

Listed: 12/01/09
Do you have photos of Creme D'Argents you would like to share? Please submit them here!
Previous Breed: Cinnamon Next Breed: Dutch
Return to Breeders Arranged by Breed
Return to Home Page
© 2009 WP