the Rabbit and Cavy Breeders Index
Dutch Rabbit Breeders
"you Can't Beat the Dutch"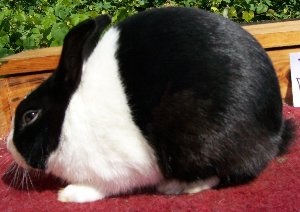 Dutch photos provided by Sarah of Double Dutch Rabbitry
The Dutch is a very old and very popular breed. This is not shocking given their small size, striking color, and gentle temperament. Dutch are shown in the standard commercial pose. They are small rabbits, to weigh no more than five pounds. The Dutch is a marked breed, meaning they must have specific markings in certain places. Dutch come in six colors (varieties) including black, blue, chocolate, steel, gray, and tort.
Dutch are well known for their laid back attitudes. This makes them an ideal show rabbit or child's pet. The markings on a Dutch are largely up to chance. In fact a correctly marked offspring may result from the breeding of two mismarked parents.
The proper sized cage for a single Dutch is 24x24 inches. A doe with kits will require one larger, 24x30 inches is ideal. Your growing juniors could be housed in even smaller cages such as an 18x18 inch pen. Your Dutch should be fed a high quality pellet diet with a hay supplement and will eat approximately 2/3 cup per day.
Dutch are a true multipurpose breed. You can save the correctly marked rabbits for your herd and sell the mismarks as pets or use them for meat. Yes, these small rabbits will dress out nicely. They will do best if you let them grow out to 10-12 weeks before processing.
Dutch breed description provided by April of DenJak Rabbits.
Max Weight: 5.5 lbs.
The American Dutch Rabbit Club
The American Dutch Rabbit Club is an ARBA chartered national breed specialty club for Dutch, details on joining and more information about the breed can be found on the website.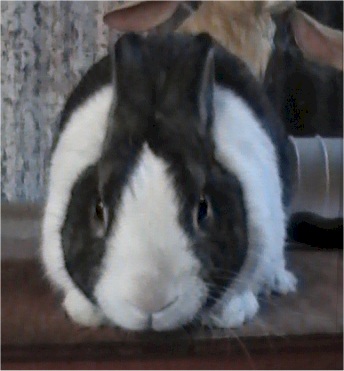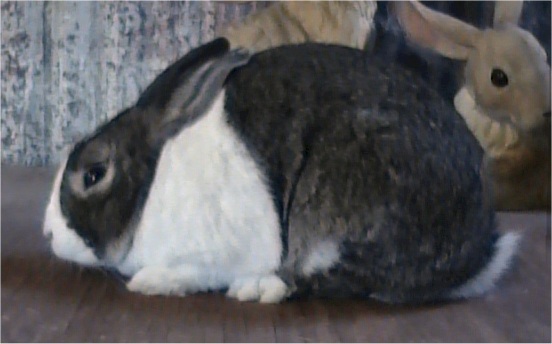 Dutch photos provided by Kayla of Sunset Rabbitry
Sunset Rabbitry
Kayla Mainwaring
Oregon
jwk899@charter.net
Dutch, Mini Lops, Netherland Dwarfs, and Various Meat Breeds
Sunset Rabbitry focuses on great type, and great personalities! We have the more rarer colors in our breeds. We also have BEW in Netherland Dwarfs
Listed: 11/20/09

DenJak Rabbits
April Wall
Georgia


apryl1420@yahoo.com


Dutch & Creme D'Argent
Raising quality rabbits for fancy, companionship, and consumption.
Listed: 11/01/09


Aya Sora Rabbitry
Heather Vandiver
Kentucky


HRVandiver@gmail.com


Dutch, Mini Rex, Holland Lop, Velveteen Lop
Main focus is on Dutch in Blue, Tort and Steel. Velveteen Lop is just getting under way.
Listed: 11/24/09
Monsoon Rabbitry
Tammy
Arizona


monsoonrabbitry@yahoo.com




Mini Rex, Dutch




Quality Dutch in Black and Blue, and Mini Rex with a focus on Otters.


Listed: 11/24/09
TripleD Farms
Debbie Dominick
South Carolina


badomini9@netzero.net


New Zealand Whites, Dutch, Holland Lops, Mini Rex, and Smutts
Started out as a hobby over 8 years ago. Love my rabbits and take great pride in raising them and connecting with others through them.
Listed: 11/24/09
Family Tradition Rabbitry
Scott & Cassie, Kevin & Jamie Rudolph
Washington


RabbitsNLabs@yahoo.com




253-279-3313

(Scott)

253-970-1598

(Kevin)




Mini Satin (Chin, Opal & White), Holland Lops (Tort & Otter), Silver Marten (Black & Blue) & Dutch (Black & Blue)




We raise quality rabbits in the previous listed breeds. Also in the Mini Satins, we occasionally have Black, Copper, Red and Gold Tipped Steel. Kevin is an ARBA Licensed Judge and Scott is an ARBA Registrar.


Listed: 11/25/09
Good Days Rabbitry
Tori Cole
West Virginia


gooddaysrr@yahoo.com


Satin Angoras, Mini Rex, some Mini Lop and Dutch
Good Days Rabbitry focuses on breeding quality Satin Angoras and Mini Rex. I also have some quality Mini Lops and Dutch that I breed occasionally. I also have pet quality rabbits if you would just like a bunny to love. All rabbits are pedigreed and healthy. I also offer Satin Angora wool for sale, if interested, as well as, woolers. Please visit my website and check out the bunnies and their winnings!
Listed: 11/25/09
Double Dutch Rabbitry
Sarah Cleavenger
Washington


doubledutch84@yahoo.com




Dutch




ARBA Judge raising quality Black & Blue Dutch in Seattle, WA.


Listed: 11/25/09
Sweet Whiskers Rabbitry
Kelly Smith
Indiana


kellykat569@yahoo.com


760-617-1578
Holland Lops, Dutch, Netherland Dwarfs and Teddy cavies
Small Rabbitry and Caviary in North Eastern Indiana. We have Show, 4-H, brood, and pets available.
Listed: 11/25/09
Michelle's Rabbits


Michelle Reed


Illinois


michelledelores62@yahoo.com




(618)-529-5707




Mini Lops, Holland Lops, Mini Rex, Rex, Dutch, Netherland Dwarf, New Zealands, Lionheads, Lionlops




Listed: 11/28/09

Elise Vaughn

Florida

Dutch, Flemish Giants, Polish, New Zealands

We breed pedigreed show/pet quality Dutch, Polish, Flemish Giants and New Zealands.

Listed: 11/30/09

Lotso Bunnies Rabbitry
Elisha Lynch
Illinois


lotso_bunnies@yahoo.com




618-564-2233




Holland Lops, Lionheads, Dwarf Hotots, Dutch, Netherland Dwarfs, Californians




Breeding and raising rabbits for about 21 yrs now. Started with basic bunnies then got the purebred bug and show bug.


Listed: 12/01/09

Kristin Renk

Nebraska
krlrenk@cox.net

Dutch, Tan

Best of Breed Rabbitry breeds quality Dutch and Tan rabbits. Located near Omaha Nebraska
Listed: 12/16/09

Nickel's Rabbitry
Kelly Weed
Washington


nickelsdutch@yahoo.com




360-508-8149


Dutch
We raise Dutch; Black & Tortise. We are located in Southwest Washington.
Listed: 2/11/2010
Painted Whiskers Rabbitry


Sherry Hines




Oklahoma


paintedwhiskers@sbcglobal.net


918-

396-2637




Polish, Dutch, Mini Rex




Our rabbitry is family operated. We raise and show Dutch, (Black, Blue, Grey, Tort), Polish (Black, Chocolate, Blue and Brokens in all colors) Mini-Rex (Castor and broken)




Listed: 2/11/2010

Blue Summer Moon Farm
Mollie Slater-Weatherford
Virginia


BlueSummerMoon22@yahoo.com




Dutch, Flemish Giant, Jersey Wooly, Lionhead, Mini Lop




Welcome to our Farm and Rabbitry! We proudly raise pedigreed Bunnies and ADGA registered goats! please do not list my email, all customers can contact me thru the website!


Listed: 4/21/10
Do you have photos of Dutch you would like to share? Please submit them here!
Previous Breed: Creme d'Argent Next Breed: Dwarf Hotot
Return to Breeders Arranged by Breed
Return to Home Page
© 2009 WP