the Rabbit and Cavy Breeders Index
Silver Marten Rabbit Breeders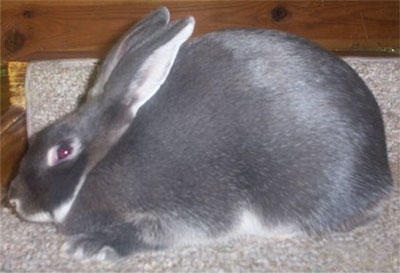 Silver Marten photo provided by Scott of Family Tradition Rabbitry
Max Weight: 9.5 lbs.
Stacy Farms
Ray Stacy
California
rstacy0@yahoo.com
Satin, Silver Marten, Mini Satin, Havana
Breeding top quality show rabbits since 1970. A few choice animals available from time to time.
Listed: 11/21/09

Amy and Christina Hesselgesser
Nevada

Havana, Silver Marten

Raising quality youth Havanas and Silver Martens in black and blue. Located in Northern Nevada.

Listed 11/20/09

Family Tradition Rabbitry
Scott & Cassie, Kevin & Jamie Rudolph
Washington


RabbitsNLabs@yahoo.com




253-279-3313

(Scott)

253-970-1598

(Kevin)




Mini Satin (Chin, Opal & White), Holland Lops (Tort & Otter), Silver Marten (Black & Blue) & Dutch (Black & Blue)




We raise quality rabbits in the previous listed breeds. Also in the Mini Satins, we occasionally have Black, Copper, Red and Gold Tipped Steel. Kevin is an ARBA Licensed Judge and Scott is an ARBA Registrar.


Listed: 11/25/09

Rebecca Blanks
Alabama

(256) 479-9071

Harlequins, Silver Martens, Creme D'Argents, Lionheads, Holland Lops, Netherland Dwarfs, Mini Rex

We are a small family run rabbitry located in North Alabama. We strive for rabbits that conform to the ARBA Standard of Perfection as well has having sweet, loving dispositions. Currently we raise Harlequin, Silver Marten, Creme D'Argent, Mini Rex, Holland Lop, Netherland Dwarf and Lionhead. Please contact us with any questions!

Listed: 12/01/09
Do you have photos of Silver Martens you would like to share? Please submit them here!
Previous Breed: Silver Fox Next Breed: Standard Chinchilla
Return to Breeders Arranged by Breed
Return to Home Page
© 2009 WP