the Rabbit and Cavy Breeders Index
Standard Chinchilla Rabbit Breeders
"the Original Chinchilla"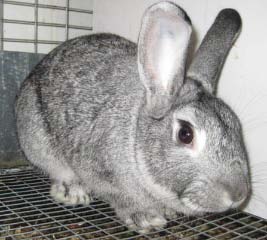 Standard Chinchilla photo provided by Stephen Pappas of All Jersey Rabbitry
Max Weight: 7.5 lbs.
All Jersey Rabbitry
Stephen Pappas
New Jersey
stpappas1@hotmail.com
732-347-0785
Belgian Hares, Standard Chinchillas, Tans, Mini Rex (red), New Zealands (white)
All Jersey Rabbitry is an ARBA registered rabbitry, a small rabbitry at that.
Listed: 11/28/09


White Lightning Rabbitry
Wendy L Showers
Pennsylvania


weewee1955@msn.com




English Lop, Mini Rex, Standard Chinchilla


Listed: 4/21/10
Do you have photos of Standard Chinchillas you would like to share? Please submit them here!
Previous Breed: Silver Marten Next Breed: Tan
Return to Breeders Arranged by Breed
Return to Home Page
© 2009 WP